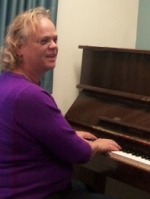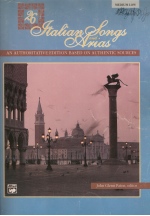 A scan of my old copy




Mix Margaret Dylan Jones
W.A. composer, pianist, teacher, article writer
Specialist in solving singing problems
for a wide range of musical styles
---
Recommended Reviewed Music Resources
---
Category: Singing, speech, vocal health
Subject: Songs for teaching classical singing
Origin: Various composers
Publisher: Alfred Publishing Co., Inc. (c) 1991 (MCMXCI)

Products included:


Reviewed by Margaret: 22 June 2010
Rating: excellent, useful for all classical students and perhaps others.

---

An authoritative edition based on authentic sources.

Edited by John Glenn Paton




PROS


This is an amazing publication, and I'll explain why a little further below.

First, the basics. They've grouped together some of the most used and most useable classical teaching songs that were previously only available in awful editions. This one has mostly excellent new piano accompaniments, which are also played for you on an optional CD.

I'll pick out some of my favourites from the contents list just to give you an idea of its scope: Caccini (ca1545-1618)--Amarilli, mia bella; Monteverdi (1567-1643)--Lasciatemi morire!; Alessandro Scarlatti (1660-1725)--Gia il sole dal Gange; Anonymous (ca.1749)--Nina; Fetis (1784-1871)--Se i miei sospiri.

If you were wondering 'why publish a book of Italian songs for teaching?' here's the short answer: the Italian language is by far the best language to sing if you want to develop your voice to its full potential.

Don't get me wrong, I absolutely LOVE singing in German, English and Latin, and sometimes in French, but I have to admit that the pure vowels of Italian, and the way some of their grammatical rules are really based on phonetics, means that Italian is a language you HAVE to sing if you want to develop any sort of decent classical voice.

But the reason this is such an amazing book is because of all the extra information it gives you. If I look at any song I see the ideas and the lyrics presented in many ways, so let me use one example to count the ways. This is the information as given in the book (abbreviated here by me):


Title: O cessate di piagarmi
Translation of title: O relent, no more torment me
From: Pompeo
By: Alessandro Scarlatti (1660-1725)
Vocal ornamentation by Arthur Schoep
Realization by John Glenn Paton
Lyrics by Nicola Minato, English version by James P. Dunn

Poetic idea: "Please stop being so hard on me..." Sesto, son of the Roman general, Pompey the Great, sings this to Issicratea...

Background (three paragraphs): Scarlatti was 22 years old when he wrote Pompeo...Except for a few...the stories...all come out of ancient Roman history...Scarlatti's operas consisted of recitatives and arias. Recitatives are sung in irregular rhythms...

Source (three paragraphs): Pompeo, Act 2, scene 5. Score in the Bibliotheque royale...
Original key: D minor. Metre: 3/8...


If this were all, it would be highly unusual book. But there's more. A lot more.

Next they provide the lyrics set out as a poem. Above the Italian lyrics (which you sing) is a phonetic version, written using the International Phonetic Alphabet (IPA), which is all conveniently explained in a cheat sheet inside the back cover. (And the page before that gives lots of great tips for English speakers about how to sing in Italian.)

Below the poetic lyrics is a word-by-word English translation. It's not singable, it's only meant to help you understand exactly what each Italian word means.

Now we get to the actual score. The Italian lyrics are given with each open 'e' and 'o' printed with IPA symbols so there is no confusion about whether to sing them open or closed. Underneath the lyrics is a singable English version (but note that singing it in English defeats the purpose of using Italian to develope a good classical voice). The editor's suggestions for dynamics etc are given in grey so you can easily tell what is his and what is the composer's.

Pretty good, don't you think? But it doesn't end there. At the bottom of the first page is this:


Idiomatic translations:
(First stanza) O cease to wound me, O let me die.
(Second stanza) More than a serpent, more than an asp, cruel and deaf to my sighing.


Turn the page and you get the next bit.

I was going to 'count the ways,' but I've lost count--there are so many.

Oh, I nearly forgot: under the title, which is also given translated into English, is a stave showing the range of the vocal line. In this case, F# above middle C to the F natural on the top line (this is the Medium High edition).

And there are great educational resources in the front of the book before you even get to the music. These make a great read:


Preface
The Roots of Baroque Style
The Evolution of Classical and Romantic Styles
Good Style in Italian Singing
Good Style in Accopanying
Acknowledgements


A quote from the Preface: "If you have known these arias in other editions, you will find surprises in this one. Many errors have been corrected. Wrong notes, wrong words, and wrong composers' names have been set right..."

Every song gets the full treatment, but a lucky few come with an extra feature: a reproduction of a page of the original. Students can see from this that the original accompaniment was no more than a figured bass line--all the other notes in the piano part have been added by John Paton. See it here.


CONS



There is not much of a downside to this publication. Many years ago I did listen to the piano accompaniments on the CD and found most of them were good, with one or two that I didn't like. From memory, a couple were too slow for my way of thinking.

And the paper quality is not the best. But that's a small quibble.



CONCLUSIONS



You get a singable rhymed translation, a readable prose translation and a literal translation of every Italian word. The printed accompaniments are stylistically appropriate as are the performance directions (loud & soft etc).

This excellent resource is highly recommended--useful for any student of classical voice. These days that can include students of other singing styles, unless you are unlucky enough to strike a teacher who is not familiar with how the voice is produced in other singing styles. (If a teacher is not comfortable with non-classical singing techniques they should not use this book with any non-classical students, but then they wouldn't have any, would they?)

There's no doubt any serious classical singing student should have one of these.



How do I know this product?



While my main speciality is turning around voice problems and fixing the vocal health issues of singers and speakers, I also teach singing.

In 1992 I purchased both the Medium High and Medium Low versions, after teaching many of these songs from earlier editions that were unstylistic. Since then I've used them a great deal, particularly for intermediate level singers, and not only for those wanting to develop a classical voice. Similarly to many teachers, I like them because they are excellent for student and semi-professional performances, including competitions.

Mix Margaret Dylan Jones, singing teacher.
MusB, DipEd, LTCL, ATCL, AMusTCL, AMusA.

Disclaimer: I am an affiliate marketer of this product. While only some of my reviewed products earn me a commission, ALL are highly regarded by me. I won't recommend anything I don't believe in. More reviews will be posted here soon.

About PeopleString. Try PeopleString.

http://facebook.com/MixMargaret


Please make suggestions on how to improve this site.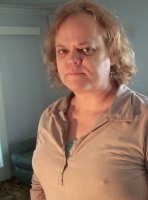 Online Resources

Professional Services

All about Margaret


Third party prodcuts & services

The Singing Zone
Per Bristow's
home study
voice method

My sites

PIANO PAGES HOME
SINGING SITE HOME
RESOURCE REVIEWS HOME
Combined Entry Portal
Combined Sites List





For the Medium High
edition, click here